Chairman of the Parliament of Ukraine congratulated the delegates of the UWC Annual General Meeting during a joint meeting in Parliament
7 September 2017
MEDIA RELEASE
On 30 August 2017, Chairman of the Parliament of Ukraine Andriy Parubiy congratulated the delegates of the Annual General Meeting of the Ukrainian World Congress (UWC) on the occasion of the 50
th 
anniversary of the UWC during a joint meeting with members of the Committee on Foreign Affairs and Committee on European Integration held in the Parliament of Ukraine in Kyiv to strengthen cooperation in supporting and strengthening the Ukrainian state.
The Chairman of the Parliament of Ukraine noted the important role of the UWC in uniting the over 20‑million strong Ukrainian diaspora and expressed gratitude for the assistance in defending the sovereignty and territorial integrity of Ukraine, and for remaining united with Ukraine. In particular, he noted the role of the UWC in supporting Ukraine during the process of ratification of the EU-Ukraine Association Agreement and in obtaining a visa-free regime for Schengen area states.
In turn, UWC President Eugene Czolij focused on current UWC priorities, which are primarily related to supporting Ukraine in order to overcome Russian aggression, promoting reforms and furthering Ukraine's membership in the EU and NATO.
Leading this session was Chair of the Foreign Affairs Committee Hanna Hopko.
During the meeting, statements were made by the Head of the Subcommittee on Regional and Transborder Cooperation between Ukraine and the EU Member States of the Parliamentary Committee on European Integration, Oksana Yurynets, Chairperson of the subcommittee on state financial control and activities of the Counting Chamber of the Verkhovna Rada of Ukraine Committee on Budget, Ivan Krulko, and Member of Parliament Mustafa Nayyem, who made a presentation on "If you want to change the world – inspire a child."
"The Ukrainian diaspora headed by the Ukrainian World Congress will continue its active support of Ukraine in these challenging times," said UWC President Eugene Czolij.
More information on this topic can be found on the website of the Parliament of Ukraine HERE and HERE.
The UWC is the international coordinating body for Ukrainian communities in the diaspora representing the interests of over 20 million Ukrainians. The UWC has a network of member organizations and ties with Ukrainians in 53 countries. Founded in 1967, the UWC was recognized in 2003 by the United Nations Economic and Social Council as a non-governmental organization with special consultative status.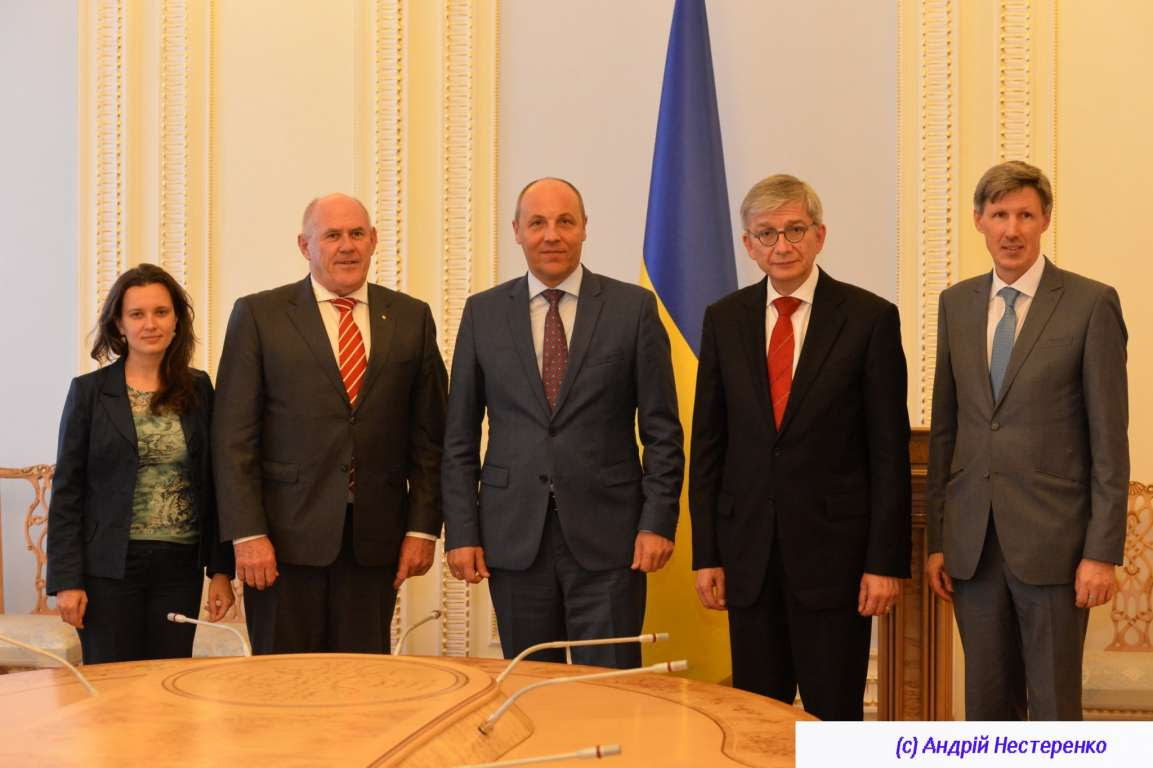 Зліва направо: М. Ярошевич, С. Романів, А. Парубій, Е. Чолій та С. Касянчук
From left: M. Iaroshevych, S. Romaniw, A. Parubiy, E. Czolij and S. Kasyanchuk
Перед учасниками засідання виступає Голова Верховної Ради України Андрій Парубій
Chairman of the Parliament of Ukraine Andriy Parubiy is addressing participants of the session