CONFERENCE: EUROPEAN SECURITY: EASTERN EUROPE-UKRAINE-GREECE. CONTEMPORARY INTERNATIONAL RELATIONS. TRENDS, IMPLICATIONS ON GLOBAL SECURITY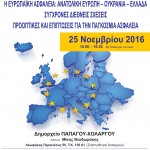 ΟΝΕ DAY CONFERENCE
Languages: Greek – English
10.00 – 10.30      REGISTRATION OF PARTICIPANTS
10.30 -13.30        FIRST SESSION
Coordinator:  Dr. Athanasios E. Drougos, Expert in international                                            security, strategic analyst.
ADDRESS
The Mayor of Papagou-Holargos, Mr Elias Apostolopoulos
The President of Association of the Ukrainian Diaspora in Greece and                                  Greeks Filoukrainians «Ukrainian-Hellenic Thought», Mrs Halyna                                        Masliuk, Journalist
The Representative of Ambassador of Ukraine in Greece.
PRESENTATIONS 
"Fake national identities: instruments of the Russian Hybrid                                                   Aggression in the Baltic-Black Sea region". Dr. Yevhen Rokytskyi                                       (Ukraine), Expert in international security, government relations and                                     risk management.
«Russian aggressive revisionism under Putin regime. Implications on                                   Ukraine, European and Global security». Mr. Alexander Khara                                            (Ukraine), Diplomat, expert at the foreign affairs, defense and                                               national security.
Presentation of the photo-exhibition «Children in War» concentrated                                   on the Greek children in the wider Azov Sea region. Screening of the                                   short-length documentary «The wave» related to the Greeks of Azov                                   Sea region (based on materials presented for the first time). Mrs.                                         Olena Prokopenko (Ukraine), Director of Ukrainian Office,                                                   Baltic- Black Sea Security Confederation. Documentary is presented                                   in its original language with Greek subtitles.
Questions and Answers with audience, 20'.
13.30 – 14.00      COFFEE BREAK
14.00 -16.30        SECOND SESSION
Coordinator:  Lambros Kalarryths, Journalist, Director of the radio                                      station «PARAPOLITIKA 90.1FM».
 PRESENTATIONS
Presentation of the well-known book «Hybrid War a La Russe» of                                        the prominent analyst Yury Fedorov by Dr. Athanasios E.Drougos                                    and Dr. Eugen Rokitski.
«Georgian Perspectives concerning regional security with an eye to                                    ongoing and contemporary developments in the region of Black Sea                                    and adjacent sub-regions». Dr. Ioseb Nanobashvili (Georgia),                                             Ambassador of the Republic of Georgia in Greece and in Serbia.
«The relations between the West and the Russian Federation in the                                      post 2014 world. How to challenge asymmetric and hybrid threats in                                    an unstable and rocky global environment, and within th forthcoming                                    Trump-led Presidency». Dr.  Athanasios E. Drougos (Greece),                                          Senior analyst, specialist in the fields of global security, terrorism,                                        asymmetric threats and Lecturer in NATO Colleges.
 Questions and Answers with audience, 20'.
Concluding remarks by the Coordinator of the Second Session.
The program is open to any changes of the last moment. 
The CVs of the lecturers will also be available to the participants.