Serhiy Shumilo with lecture in Webster University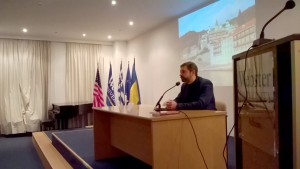 "Journey to Athos" was the topic of lecture by Serhiy Shumylo delivered on December 16, 2016. Actually, the whole event had three parts: the lecture itself, a projection of documentary film and a photo exhibition. The aim was to reveal deep spiritual connections between the Holy Mountain Athos and Ukraine whose history stretches back for more than 1000 years.
The lecture was hosted by Webster University in Athens with kind support from Vice-chancellor for Academic Affairs Susie Michailidis. The whole event was organized by Association "Ukrainian – Hellenic thought" with Halyna Masliuk as a head. Also, representatives of Ukrainian Embassy with the Ambassador Volodymyr Shkurov made an opening speech. Within visitors were both Ukrainians and Greeks. Moreover, the event coincided with the visit of Ukrainian children from Volnovakha city in eastern Ukraine. They presented their own project "Children ask for peace" (Dity Prosiat Miru) with assistance from NGO "Ray of Ukraine" and Member of Ukrainian Parliament Dmytro Lubinets. Such cultural initiatives are essential to build cultural bridges of mutual understanding and respect between cultures.
During the lecture, Serhiy described mysterious world of Mount Athos and some of its particularities. The story started with foundation of the first monastery with generous support from Prince Volodymyr in the end of 10-th century. Through the years connections grew stronger, more and more pilgrims from Kievan Rus kept arriving and thus, more monasteries were founded. Some of them are active today; others are forgotten in the woods. Mr. Shumilo was the first to unearth the abandoned Athonite Monidrion Chorny Vir, founded by Zaporozhian Cossacks in 1747. Accompanying photos were as frozen moments of life from another world. Most of them were shot during preparation of the documentary and gave the possibility to see in details various moments of life, landscapes and elaborate wall paintings from churches. After lecture even a longer section of questions and answers followed. Lively interest from the audience was clearly felt.
By the end, several books from International Institute of the Athonite Legacy in Ukraine were given as gift to the university library in order to share and promote common history and spiritual heritage. Among them are little-known letters of St Paisy Velichkovsky to the last Ottoman of the Zaporozhian Host, Petro Kalnyshevsky. Other monographs describe detailed biographies of the Athonite Elder John Vyshensky, Metropolitan Isaiah Kopynsky and others.
Especially symbolic was the fact that the European tour of lectures ended in Greece which has this unique phenomenon of monastery republic.
Olena PECHAK. Photos Anna MANIATI, Lesia NEDELCHEVA.